Seeds
20 Peers
16
Torrent Health
Password Sniffer Console 3 Portable download torrent
Password Sniffer handheld console | MB
Password Sniffer Console is an all-in-one command line to capture based password sniffing tools network e-mail, Web and FTP passwords.
It automatically detects network packets announcing different protocols and immediately decrypt passwords.
Here is the list of supported protocols,
(HTTP Basic authentication)
FTP
POP3
IMAP
SMTP
In addition to the return of your lost passwords, you can use this tool in the following cases
Running the portal system, in which all through traffic in your network.
In MITM attack, the turning of the central recording system passwords from target system.
The multi-user system with the Administrator account run to detect quiet passwords for all users.
contains the installer in the winpcap, Network Installation capture driver required for sniffing. For Windows 8, you must first manually install the driver winpcap (mode compatibility with Windows 7) and take to install only Password Sniffer console at our installer. Plants vs Zombies Game of the 32/64 Bit Tontoface download free torrent ReviverSoft PC Reviver v2 Windows XP/7/8 Portable download
It is a very useful tool for penetration testers and is a command line tool for automating suited makes.
It works on both 32-bit 64-bit platforms, from Windows XP to Windows. 8
What's New
output
Mega 2016 release with support for the new Windows 10 version.
..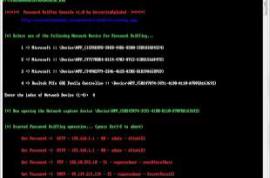 | | |
| --- | --- |
| Download uTorrent | |
Password Sniffer Console 3 miss lee Download
Password Sniffer Console 3 fast-dl Download
Password Sniffer Console 3 Torrent Download